Shopping Cart
Your Cart is Empty
There was an error with PayPal
Click here to try again
Thank you for your business!
You should be receiving an order confirmation from Paypal shortly.
Exit Shopping Cart
Historic Hoosier Hills RC&D
Helping You Help Your Hometown
We carry a wide range of products to suit a variety of budgets and tastes. Our most popular products are shown below. Please call or stop by for more information on products, current promotions and custom options. You can order on-line using PayPal or fill out the order form below and mail in to Historic Hoosier Hills RC&D.
Reminiscences & Reflections
An oral history of dramatic contrast between Hoosiers and the War Department in Southern Indiana.
Reminiscences & Reflections
For Our Country: The Story of the Jefferson Proving Ground
This is a one hour DVD that took five years to produce. The story consist of live interviews of folks that were born on the Proving Ground or were employed by the Army during its 50 years of operation.
Interviews include Virginia Matthews whose farmhouse was moved to provide housing to the Army Officers and their families during World War II. Norma Lou Irwin describes life at Old Timbers Lodge while it was an operating farm. Louis Munier describes his farm that was taken over by the Army in 1940. Bob Hudson, Mike Moore, Marilyn Browing, and Ken Knouf discuss their jobs at JPG.
Elizabeth Winters, producer of the video, reveals the complete story of JPG to include the condemnation of the land by the government thru base closure in 1995 and the resulting years as the Big Oaks National Wildlife Refuge. Official video clips of Army testing and CNN Base Closure meetings are included.
The video has been highly praised by those who have watched this oftern emotional story.
For Our Country: The Story of the Jefferson Proving Ground
A History of Saint Magdalene Catholic Church
St. Magdalene Catholic Church was one of the most spectacular churches in the surrounding community in 1940 when the U.S. Government decided to take over the land for a testing facility for Army ammunition to support the World War II effort. Destroyed, the church lives today in a new building located in New Marion, IN... several miles from the original site. This book tells of the original church, the impact of the government takeover, and the evolution of the church to what it is today.
A History of Saint Magdalene Catholic Church
Old Timbers
This HARDBACK book with dustcover, tells about the Old Timbers Lodge that was built by Alexander Thomson. Written by his son, Chilton Thomson, the book tells about how the Old Timbers lodge was built and the short life that the Thomson family had to enjoy the unique beauty of the lodge. This book is a reprint copied as close as possible as the original, however, this new version includes the original version as well as updated text by Chilton Thomson and this version includes new color pictures of the lodge that enhances the original book, bringing it up to date in 2005. Currently on the National Register of Historic Places, "Old Timbers Lodge" is a story of the Great Depression, World War II, and the U.S. Governments need for testing Army Ammunition for the safe use by our countries troops. The lodge stands today as a place of unique beauty that is to be preserved for future generations and this book tells the story from a family member's view...
Echoes of Jefferson Proving Ground
by Sue Baker - this book has been reprinted from it's original printer plates to create a reproduction that matches the original. The book provides a historic view of Jefferson Proving Ground from it's origin through it's operational years.
Echoes of Jefferson Proving Ground
Ripley County in World War II
Highlights of Jefferson Proving Ground with assorted newspaper clippings from a scrapbook donated by Evelyn Comer, Holton, IN.
Ripley County in World War II
News Clippings
The 1940's Newspaper Clippings book - This book includes newspaper clippings from local newspapers during 1939 and 1940 during the take over the the area by the government to create the Jefferson Proving Ground. These actual newspaper accounts provides a unique look at the events that took place during that time period.
John Hunt Morgan CD
All the same historical information available on the tape plus bonus Civil War music for a total of 116 minutes (almost two hours). Either the tapes or CDs can be enjoyed at home, or can be played in your vehicle as background for the driving tour.
John Hunt Morgan Guidebook
The Guide Books are a 56-page detailed account of events along the raid route in Indiana. Numerous photos and ten route maps are also included. In addition to these features, the books provide a complete historical narrative of John Hunt Morgan's 1863 raid through southeastern Indiana. Written by Lora Schmidt Cahill (K-Hill Publications).
John Hunt Morgan Guidebook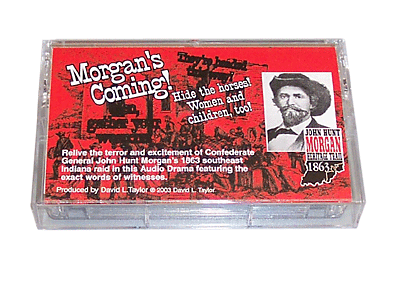 John Hunt Morgan Cassette
An audio tape presenting Morgan's Raid in first person accounts, complete with Civil War era music, background gunfire, and sounds of horses galloping. Ten acts take the listener through background on Confederate General Morgan, and the crossing of the Ohio River into Indiana, to their exit into Ohio six days later. The sound track plays for 90 minutes. David L. Taylor was the writer, director, and producer of the audio materials
John Hunt Morgan Cassette
Education Brochure for Elementary Aged Children
Includes raid information, historic graphics and learning activity map.
Price: FREE
Education Brochure for Elementary Aged Children
John Hunt Morgan Self-Guided Tour Map of Indiana
Travel back to July 1863 and follow Confederate General John Hunt Morgan and his Raiders on this self-guided tour. Map with directions that correspond with the numbers of 24 John Hunt Morgan Heritage Trail sign locations
John Hunt Morgan Self-Guided Tour Map of Indiana
Trees of Indiana
Book of trees in Indiana. Written by Charles C. Deam.
Birds of Indiana
This publication was designed with the purpose of aiding more persons in becoming acquainted with the habits and characteristics of common Indiana birds. It is not intended to be a technical booklet for the scientist, but rather to which the amateur bird-watcher may refer for identification of birds not immediately recognized.
Landowner Liability Protection Signs
These signs meet standards of P.L.3-2011, Sec. 1. When posted at the main entrance to your property the signs are intended to protect a landowner from frivolous lawsuits that may arise when a neighbor or trespasser is injured or killed on your property. They should also protect you in the event that you sponsor a field day or other activity where the public has access to your property
Landowner Liability Protection Signs
Please send check or money order to:
Historic Hoosier Hills RC&D
PO Box 407
Versailles, IN 47042
Questions: 812-689-4107 / [email protected]
/