Shopping Cart
Your Cart is Empty
There was an error with PayPal
Click here to try again
Thank you for your business!
You should be receiving an order confirmation from Paypal shortly.
Exit Shopping Cart
Historic Hoosier Hills RC&D
Helping You Help Your Hometown
Click the links below to view other pages regarding the
John Hunt Morgan Heritage Trail
John Hunt Morgan Raid in Indiana
On July 8, 1863, Confederate Brigadier General John Hunt Morgan and two thousand cavalrymen crossed the Ohio River into Indiana. They crossed from Brandenburg, Kentucky, using two captured steamboats. For six days the raiders rode through southern Indiana. Morgan and his men had conducted earlier raids, but this would be remembered as his Great Raid of 1863. It also was the only major military activity in Indiana during the Civil War.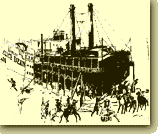 Upon landing in Indiana, Morgan headed north, some thought toward Indianapolis. Facing only small resistance, he camped five miles north of the Ohio River on July 8. The Battle of Corydon occurred the next day as his men eventually outflanked the 450 men of the Home Guard and proceeded into town. It was written that the men robbed the merchants, county courthouse, and private citizens to their "hearts' content." Morgan left Corydon on the afternoon of July 9.
The raiders spent their second night in Indiana in a field 16 miles south of Salem. The next day, July 10, the raiders entered Salem where they looted the businesses and burned the railroad depot - no town in Indiana would suffer more.
Throughout the raid, men spread out from the main column, pillaging as they rode. the railroad and telegraph were primary targets of destruction. Food and fresh horses were in constant demand.
The inexperienced Indiana militia were unable to deter Morgan and his men. However, the situation was about to change. A Union cavalry force of four thousand under, the command of Brigadier General Edward Hobson, was in pursuit. They crossed the Ohio River from Kentucky at 11 p.m. on July 10 and were within 25 miles of Morgan's column.
In Indianapolis, Governor Oliver Morton called for volunteers and approximately 20,000 responded. Thirteen regiments were mustered into service and the command was given to Major General Lew Wallace. It would be Wallace's task to turn back Morgan's men and push them out of the state.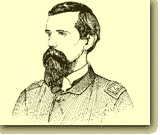 After plundering Salem and becoming aware of his pursuers, Morgan turned to the east and began to parallel the Ohio River. He entered Lexington, Indiana, at dusk July 10. Morgan was referred to as the "King of the Horse Thieves" as his men frequently obtained new mounts. The raiders started early the next day toward Paris and Vernon, Indiana, realizing that their enemies were not far behind and also, probably, in their front.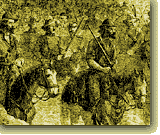 At Vernon, for the first time, the raiders were turned back. The Home Guard had taken up a strong position at Vernon on a bluff overlooking the Muscatatuck River. Morgan turned southeast toward Dupont, destroying bridges along the way. The raiders would spend the "night" in Dupont, encamping at midnight and leaving at 3 a.m. Morgan's rear guard, however, did not get away until 8 a.m. Hobson's men arrived in Dupont five hours later. the vise was closing on Morgan.
The raiders arrived in Versailles on July 12 where they robbed the county treasury of $5,000. Hobson was four hours behind. The raiders left Versailles at 4 p.m. and headed northeast toward Sunman. They stopped two miles south of Sunman at the Ferris School, where they camped for the night. Unknown to the raiders, on the railroad siding in Sunman, were 2,500 Union soldiers sleeping in boxcars.
At 5 a.m., Monday, July 13, Morgan and the raiders resumed their eastward ride. Although extremely tired from the rigorous travel and the lack of sleep. The raiders continued to leave a path of destruction. The advance guard of Morgan's cavalrymen crossed the bridge into Harrison, Ohio, at 1 p.m. The Great Raid through Indiana was coming to a close. AS the tail of Morgan's column made it into Ohio at about 7 p.m., one last bridge was burned.
There were 20 Hoosier enlisted men killed during the raid, 25 known wounded, and an untold amount of destruction. Hobson would continue the chase as the Great Raid continued through Southern Ohio. Only July 26, the raid came to an inglorious end. Morgan was captured in northeastern Ohio with only 364 men. His total losses were estimated at 28 officers killed, 35 wounded. Of the enlisted men, 250 killed killed and wounded. An unknown number of men had been captured.
John Hunt Morgan was imprisoned in the Ohio State Penitentiary, until November 27, 1863, when he and six other made an escape. This, of course, added to his reputation of a dashing cavalier. Despite his boldness and other more successful raids, Morgan never regained the confidence of his superiors - perhaps he was too bold. General Morgan, age 39, was killed in Greeneville, Tennessee, by a Union private on September 4, 1864.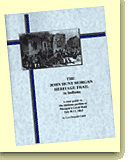 For more detailed information order your copy of the John Hunt Morgan Trail Guild Book. Also available are audio tapes and a CD with eye-witness accounts and sound effects.
Click the links below to view other pages regarding the
John Hunt Morgan Heritage Trail
/